WE HOLD FUN INDOOR CLASSES FOR YOU & YOUR DOG TO ENJOY TOGETHER
IN AGILITY, FLYBALL,
PUPPY & OBEDIENCE CLASSES & SCENT WORKSHOPS TRAINING WITH QUALIFIED INSTRUCTORS.
WE ALSO OFFER ADVICE & HELP WITH BEHAVIOURAL ISSUES.

WE HAVE TWO VENUES IN SUFFOLK
PARHAM NR WICKHAM MARKET & TOPTHORN ARENA, STONHAM ASPALL
BOTH WITH INSIDE ARENAS, OFFERING THE FOLLOWING SERVICES :-

Agility classes for beginners, intermediates and advanced levels.

Flyball classes for beginners, intermediate levels.
Puppy & socialisation classes.
Obedience & advanced obedience classes.
Scent workshops.
Puppy & Dog walk workshops.
Agility handling, See-saw workshops.
One to one Behavioural visits.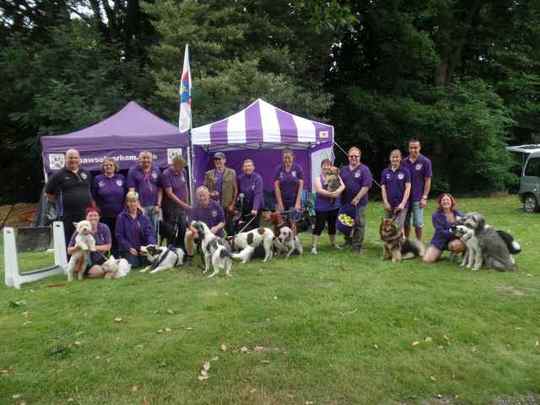 WE ATTEND BOTH LOCAL AND NATIONAL EVENTS/SHOWS WITH DEMONSTRATIONS OF AGILITY & FLYBALL. ALSO RUNNING HAVE A GO RINGS & DOG SHOWS.
WITH MANY APPEARANCES THROUGHOUT THE YEAR FROM 'KARL KNIGHTS & STAR' WITH THEIR TRICK DISPLAY.
WE ALSO VISIT LOCAL CARE HOMES WITH SMALL DEMOS, GIVING THE RESIDENTS THE OPPORTUNITY TO MEET SOME OF OUR DOGS & CHAT TO OUR HANDLERS.

WE ARE PLEASED TO BE SUPPORTERS OF EAST ANGLIAN AIR AMBULANCE & THE CANINE WELFARE RESCUE CENTRE NEAR HACHESTON & SUFFOLK ANIMAL RESCUE.